Acai Bowls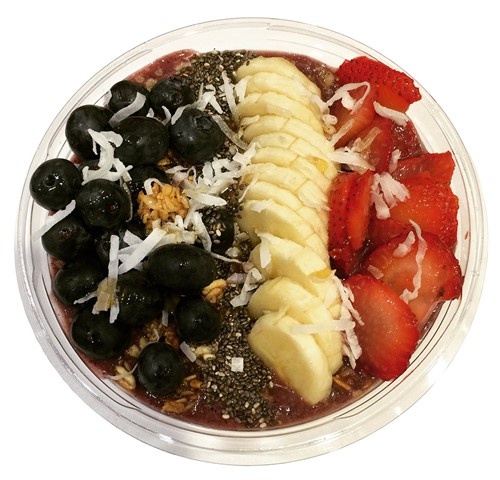 Try our new Acai bowls and see what you have been missing.
Everyone has heard of the Acai berries (pronounced AH-sigh-EE) and if you are not familiar with them, then you probably have a lot of questions.  What are acai berries?  What do acai berries do?  Why should I care?  Are they magical?  Are they a fad?  Are acai berries the only things I should eat?  How do I find acai berries?  How do they taste?  How do I eat them?
What are Acai berries?
An Acai berry comes from an Acai palm tree that is native to Central and South America.  It is known by the term we are all familiar with - a superfood.
What's a superfood?
A superfood is basically a food that is high in antioxidants.  Studies have shown that acai berries are higher in antioxidants than cranberries, raspberries, blackberries, strawberries, or blueberries.
Why should I care?
For the same reason that you want to eat healthy, balanced meals everyday.  What goes into you affects how you feel, how you perform, and how long you live.  Acai berries are, at the least, a fruit, a core component of your everyday diet.  But it's so much more!  Because they are low in sugar, you can eat with a bit more freedom than say, watermelon.  They may help you lose weight, though the jury is still out on that.  They contain beneficial fatty acids like oleic acid, the fatty acid found in olive oil.  Most importantly, they contain lots of flavanoids or antioxidants that help fight harmful free radicals.
Are acai berries magical?
Nope, they won't make you fly, or make you super strong, or make you live forever.  Acai berries are just berries that are really good for you as part of a balanced diet.  We would certainly recommend that you eat more of these than say, potato chips.
Are they a fad?
Acai berries are no fidget spinners and they are no more a fad than brushing your teeth.  Acai berries are shown to promote help digestion, improve cellular health, promote a healthy hearth, boost your immune system, help fight aging, boost your energy level, and more. 
Are acai berries the only things I should eat?
Popcorn for breakfast, lunch, and dinner?  Frozen yogurt?  Eggs?  Spinach?  Chicken?  Smoothies?   Coffee?  Tea?  Pizza?  Can anyone live on just one thing?  Of course not.  Eat an acai bowl for breakfast and skip the sugar rush and crash of a doughnut and coffee.  Drink an acai smoothie and pass on the greasy, fattening burger.  Or, eat acai bowl for dinner and keep things light.
How do I find acai berries?
Simple.  Stop by frovana in Tenafly, NJ and you will find Acai bowls, Acai smoothies, and Acai teas.
How do acai berries taste?
Acai berries are not quite as sweet as blueberries, even though they look similar.  In fact, they have a very mild, almost earthy flavor.  Unfortunately, acai berries don't travel very well.  While other fruit can survive being shipped interstate or exported from other countries, acai berries are very fragile.  Unless you happen to have an açaí palm tree growing in your backyard, the only way to enjoy them is in juice form or frozen.
If acai berries are frozen, how do I eat them?
Easy.  At frovana, we prepare your acai bowl topped with fresh fruit for a healthy, nutrient pack, filling meal, and even delicious.  Or try our acai smoothies made with real fruits and fruit juices for a meal on the go.